Is Cambridge House the Right Place for Me?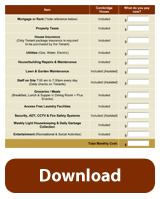 When you are looking at making a decision to move to a Retirement Residence, it is important to know which services are included in your monthly rate. When you do compare your cost of living in your current house or apartment to the Woodland Courts rates you can make a better informed decision on the costs and the lifestyle advantages in terms of time, money, and quality of life in a retirement community of fellow seniors whether a Rental Suite or an Assisted Living Suite.
Click here to download a PDF to cost compare with Cambridge House. Note: Included (Assisted) means with purchase of "Assisted Living Services" option.

We are confident you will agree that the costs of living in style and comfort with your needs catered to at Cambridge House are quite reasonable given the level of service, amenities and security that each and every resident receives. Please compare us to other similar Winnipeg Senior's Retirement Residences.
"Don't be disappointed get on the Waiting List for a new Suite today!"
DO YOU HAVE ANY ADDITIONAL QUESTIONS? Not to worry! We are here to assist you with this important decision-making process. The more we can help you, the more confident you will be that you made the right decision – here at Cambridge House.